THE BUDDHIST BOOK
The Best Way to Catch a Snake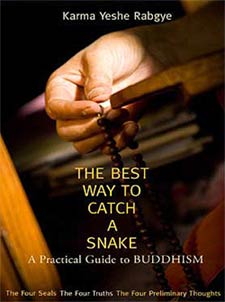 A three part book on the Buddha's foundation teachings with a foreword by His Holiness 17th Karmapa.
About the Book
Buddhism, with its stress on non-violence, the 'middle path' and its promise of nirvana, finds many followers. But in today's time, it has become simply a fad for some, something to follow because their favourite celebrity is doing so. Simply wearing robes or carrying prayer beads does not make one a Buddhist; it has to be ingrained within, and should become a part of one's daily life.
The Best Way to Catch a Snake, a three-part volume, is a beginner's guide to Buddhism, for all those who want to start their journey towards nirvana, but don't know how and where. It goes beyond the exotic rituals and practices that Buddhism today has become all about, and looks at the fundamental tenets, without knowing which one cannot be a true Buddhist. It elucidates the Four Seals, the Four Noble Truths, and the Four Thoughts of Buddhism in simple, jargon-free language. The author, a Buddhist monk himself, combines examples from his own experience with simple exercises to skilfully guide us through the Buddha's teachings. An easily-relatable and valuable source of Buddhist knowledge, this book is a must for anyone drawn to the Eightfold Path of Gautama Buddha.
All proceeds from this book go to The Sangye-Menla Trust.
---
About the Author
Karma Yeshe Rabgye is a Western Monk in the Kagyu tradition of Tibetan Buddhism. Originally
from England, he now lives in Wogmin Thupten Shedrup Ling Monastery in Rewalsar, Northern
India under the guidance of Lho Ontul Rinpoche, where he teaches English, basic Buddhism and meditation classes to monks of all ages.
Yeshe took ordination vows from H.E. Tai Situ Rinpoche in Sherabling Monastery, Northern India
and has studied with H.H. The 14th Dalai Lama, H.H. The 17th Karmapa, H.E. Tai Situ Rinpoche
Khenpo Tsultrim Gyamtso Rinpoche, Dzongsar Jamyang Khyentse Rinpoche, Drupon Khenpo
Lodro Namgial, Geshe Sonam Rinchen and Geshe Tashi Tsering. Having received teachings and
studied works of both Mahayana and Vajrayana Buddhism, the Best Way to Catch a Snake series
was inspired by successive short-term retreats in which Yeshe took the Buddha Shakyamuni's early teachings as his inspiration for practice.
Yeshe also helped found Sangye-Menla Patients Charitable Trust in 2008, a non-profit organization and hostel in Chandigarh, Punjab, India.
---
Where to buy the book
India – www.junglee.com
USA – www.natarajbooks.com
UK – www.somabooks.co.uk
World-Wide – www.amazon.com
If you have problems purchasing the book please contact - karmayesherabgye@yahoo.com