MAIN TRUSTEES BEHIND SANGEY-MENLA TRUST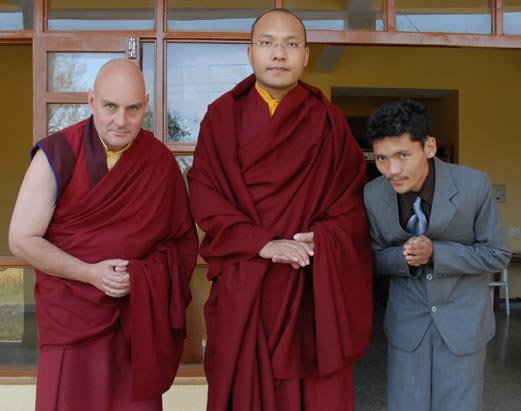 The main people behind the setting up of the trust are:
Lobsang Dhondup Bhutia
Lobsang, who came to Chandigarh in 2005, was at that time a Buddhist monk from Sed Gyued Monastery in Kalimpong. He came to Chandigarh to help a sick monk from his monastery. He was so overwhelmed by the work of the volunteers, who looked after patients visiting from the Himalayan region of Northern India, and saw that they needed help. So, on returning to his monastery he asked permission to return to Chandigarh to help. Since that time Lobsang has worked alongside other volunteers for the benefit of the sick and needy. He sees the problems the patient's face on a daily basis and his dream is to build a hostel for them – this dream is now being fore-filled since the setting up of the Sangye-Menla Trust.
Everyday he takes patients to various hospitals and clinics for treatment and acts as a translator for the patients. He also ensures the patients acquire the correct medication and after care. He has since stopped being a monk, so he can wholeheartedly dedicate his life to the sick and needy.
Yeshe Rabgye
In 2006, Yeshe, a Buddhist monk and author who lives in Northern India, came to Chandigarh with another monk who required treatment. At that time he meet Lobsang and was told of the problems the volunteers were facing with the rented house the patients were staying in. The landlord was not happy with all the sick patients staying there and they were worried that they may be asked to leave. They were totally at the mercy of the landlord and had to pay rent increases on a regular basis.
The house was in a busy and crowded part of Chandigarh and hindered the patients treatment and recovery. Lobsang explained his dream to Yeshe at that time and explained that he did not know how to turn his dream into reality. Yeshe suggested they work together and 8 months later the Sangye-Menla Trust was formed. Yeshe continues to help manage the business side of the trust.